Creating a Log File for Errors when Starting Citavi
Some errors may occur when starting Citavi. These types of errors will not appear if activity logging is enabled from within Citavi as described above in section B. In this case, the Citavi support team may ask you to create a log file.
Close Citavi.
Create a shortcut to the Citavi program file.
If you already have a Citavi shortcut on your Desktop, continue with step 3.
Otherwise, switch to the Citavi program folder

C:\Program Files (x86)\Citavi 6\bin

and then right-click the

Citavi.exe

file. On the shortcut menu, click

Send to > Desktop (create shortcut)

.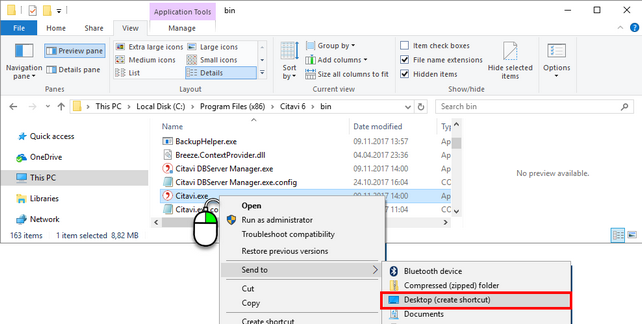 Right-click the shortcut and then click

Properties

.
In the

Target

field, place the insertion point at the very end of the field after the closing quotation mark. Type a space and then

/log

and then click OK to finish: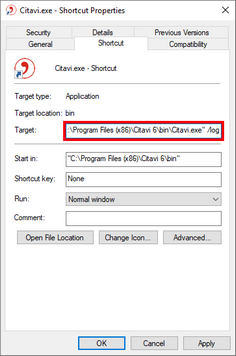 Double-click the shortcut to start Citavi.
Do the steps that produce the error.
Close Citavi.
To send the activity log to the Citavi support team, open Windows Explorer and enter the following path:

%localappdata%\Swiss Academic Software\Citavi 6\Log

.
Send the

citavi.log

file to the Citavi Support team.